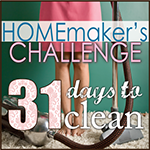 Day 2: Created to Give Life
"We as women have been blessed with the very nature of life-giving! At its core, life-giving is all about love – loving others with what God has given us."
Mary Challenge: As I think about ways that I can give life to my home, my children, my husband, and my sphere of influence, here are a few things I can do:
Use my words wisely, in a positive and life-giving way. Children have such tender hearts, and they can easily detect annoyance, sarcasm and other negative tones in my voice. I need to guard my tongue and make sure my words will build them up, not tear them down. I also need to make sure to affirm and encourage my husband more, and thank him for working so hard to provide for our family!

Declutter my home and only keep what we need or love

. I tend to hang on to things I don't need and clutter does not take long at all to multiply, it seems! De-cluttering will give life to our home and make it easier to clean and more peaceful.

Limit the time our family watches tv or uses other electronic media and entertainment.

There's not a whole lot of life-giving going on while wasting time doing these things!
"Life-giving is about receiving from God in order to give to others." Barbara Mouser, Five Aspects of Woman
Martha Challenge: Kitchen-Clean out and scrub the refrigerator and freezer. Oh boy, here we go! I'm also going to clean off the top and outside of the fridge because it's been driving me nuts!
Outside: Before
Outside: After
Another outside view: Before
After:
Inside fridge: Before
Inside fridge: After
Fridge door: Before
Fridge door: After
Freezer: Before
Freezer: After
Freezer door: Before
Freezer door: After
And here is the amount of trash from this cleaning project!
I didn't think my fridge and freezer needed cleaning that badly, but I'm glad I did it! It wasn't actually too dirty since it's only 1.5 years old, but there was a lot of expired and old food in there. Now, here's hoping it stays clean for a while ;-) Have you cleaned your fridge out lately?