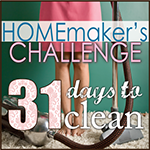 Day 3: 10 Ways to Give Life to Your Home
Three days in and I'm feeling pretty good about this cleaning challenge. I hope the enthusiasm can last throughout the whole thing :)
By the way here is the link to buy this ebook on Amazon:
I really liked the list of 10 ways to give life to my home today, and here are my 2 favorite ways (You'll have to buy the e-book to see the rest of them; it's totally worth it!):
Offer life-giving and grace-filled words to husband and children.

Make our homes a place of grace where mistakes and sins are not met with anger

but with love and hope.
It is hard not to get angry when a child does something that is willfully disobedient. I mean, it's nearly impossible to react in love when my toddler draws with marker all over the sunporch wall (which he did recently!) I do know that my children respond much better to discipline when I am calm and gentle, but firm; not when I react harshly. Another thing that helps immensely is finding ways to praise the kids for good behavior and any other thing that you are pleased with. My mom taught me this and it is so cute to see how proud the kids are when I praise them.
Mary Challenge: I was supposed to ask my family members what I do that makes them feel loved when it comes to caring for the home. My husband's responses (after I forced him to! He never complains about anything, so I really had to pry for these) :
When I wash the dishes (and do other chores) without grumbling and complaining.

I thought it was cute how he used the phrase "without grumbling and complaining", because that's something I remind the kids of a lot. I hadn't realized that I often grumble and complain about homemaking tasks, which must be unpleasant for him to hear....better change that!

Dinner being ready when he comes home from work.

Though I've gotten better at this with subscribing to e-mealz and having my meals planned, I still do not have the best time management skills and sometimes start dinner too late.

Picking up a little so it's not a complete disaster when he gets home from work.

I remember doing this when I was little before my dad came home from work, so I know it's a nice way to show love to the head of the home by making it a pleasant place to come home to!

Davin said that he feels loved when I make yummy food, but not noodles! (He does not like any pasta dishes, which I cannot understand!)
Martha Challenge: Dust the top of refrigerator (I did this yesterday, yay!), cabinets, and shelves. Wash cabinets and drawers.
Here's the top of the fridge I cleared off and cleaned yesterday:
These little shelves sure had some dust bunnies on them! I like my kitschy little knick knacks :)