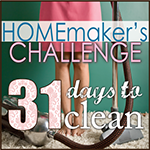 "Cleaning isn't just about scrubbing floors, making beds, and clearing out clutter (although those are good things), it's also about creating an environment that encourages people to feel welcomed, loved."
I need to think of how I can bless my guests in my home by having a "put your feet up" atmosphere. This means that it is okay for it to look "lived-in", because "lived-in" is far more comfortable than pristine. A few other things suggested in today's reading that I liked:
Always have coffee or tea made (or ready to be made)

.

Be a listener.
Mary Challenge:
Invite a friend over. I hope someone will accept my invitation to come over, otherwise I'll invite the neighbor kids over and treat them to popsicles or something!
Martha Challenge:
Clean the oven and microwave....suppressing my urge to grumble and complain about this right now!
The microwave obviously needed cleaning; lots of smudges and fingerprints:
Much better:
Inside is even worse:
Ta-da!:
Okay, this is just disgusting:
Clean!:
Now for the oven, which unfortunately is not self-cleaning!:
That looks better:
Ugh, yuck! I don't want to admit how long it took me to scrub this:
There's still some work to be done, but it looks much better!
There was a lot of grease and grime on the door:
And now there isn't!
Phew, I'm so glad to be done with that! I probably shouldn't have stayed up until 1a.m. doing it, though!